It's been two years since British fashion designer Alexander McQueen tragically took his own life. His death came as a hard hitting blow to the fashion world, as McQueen was one of fashions greatest royalties. As the anniversary of his death passed last week, I feel it's necessary to reflect back on his career as one of the greatest fashion designers of all time.
McQueen was head designer for Givenchy from 1996-2001 and then went on to create his own self-titled brand where he worked up until the time of his death. From the very beginning of his career in fashion, McQueen quickly made a name for himself. He carved out his own unique space in the world of fashion and received high praise from critics.
From the shipwreck theme of his Spring 2003 RTW Collection to the March 2010 show that featured his very last creations, McQueen was a star. His bravery to design straight from his soul, no matter how strange or unusual was something that deeply resonated with like-minded individuals all around the world. Each and every creation proved what a talented and innovative being he truly was. He always had a way of advancing fashion so far into the future that there was never a chance for time to catch up with it.
McQueen wasn't afraid to dive into peculiar territory with his creations, as he took inspiration from insects, snakes, and extraterrestrial creatures for the strangely fashionable "Plato's Atlantis" Spring 2010 collection.
For his Fall 2006 RTW collection, McQueen ended the show with one of the most mind-blowing theatrics fashion has ever seen. A revolving white hologram of Kate Moss magically appeared out of the darkness as eerie violins accompanied the floating woman's godly movements. To call it a scene from a dream would be an understatement. In that moment, the whole world had turned into the most beautiful fantasy. All senses of reality had been washed away, and we were living in the fantasy of McQueen.
McQueen was one of the most progressive minds of our generation and his legacy will live on forever. His fashion was freedom, as he took us to a world that was entirely his own and allowed us to escape into the depths of his dark and beautiful imagination. His world was that of enchantment and it's truly tragic how his demons ended up winning in the end.
In honor of the brilliant mind that was Alexander McQueen, here are some of my favorite designs of his throughout the years.
"The world needs fantasy, not reality. We have enough reality today." - Alexander McQueen
Givenchy-- Spring/Summer 1997
Givenchy-- Fall/Winter 1998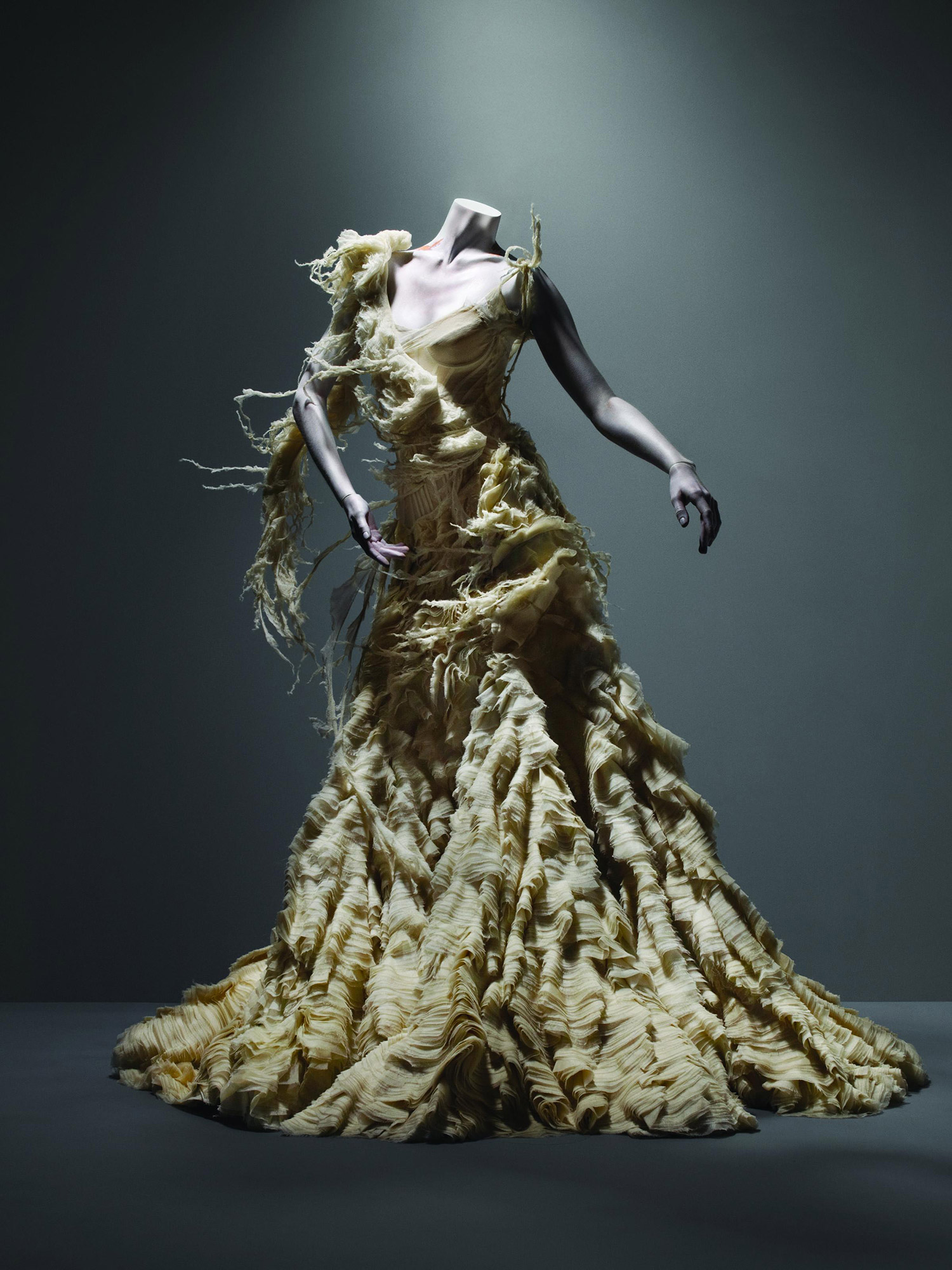 "The Oyster Dress"-- Alexander McQueen Spring/Summer 2003


Alexander McQueen-- Spring 2003


Alexander McQueen-- Spring/Summer 2005


Alexander McQueen-- Spring/Summer 2008
Alexander McQueen-- Fall/Winter 2009

Alexander McQueen-- Fall 2009 shoes
Alexander McQueen-- Spring/Summer 2008












Alexander McQueen SS 2010 heel in comparison to a normal heel.




Lady Gaga in Alexander Mcqueen at the 2010 MTV VMAs